Access to data catalogues
The data catalogues of the four AERIS, ForM@Ter, Theia and ODATIS data hubs and the DINAMIS structure can be accessed here. All of the specialized Earth system observation data and products proposed by the Data Terra research infrastructure are on this page.
A meta-catalogue to enable comprehensive and integrated access to these data, products and services will be coming on line shortly.
Quick access to catalogues
ODATIS data catalogue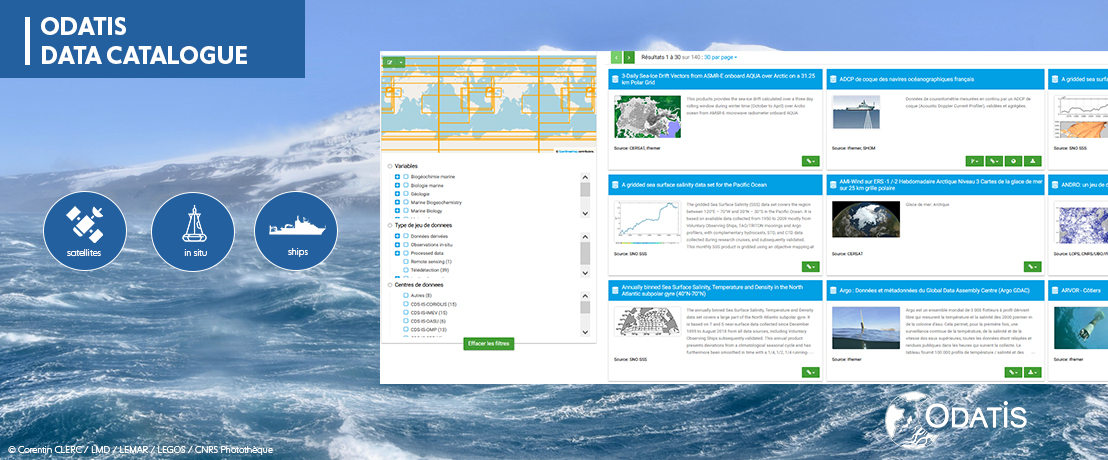 The ODATIS hub's data and product catalogue lets you browse datasets and their links to international programmes. The catalogue is built around the Sextant geo-network and provides a range of tools, including search filters using discovery vocabulary to encourage interoperability between catalogues and databases, a data description service (with a Quicklook tab and a Full View tab), a data visualization service where you can select different dates in a time series, and a service for downloading directly from the catalogue or via each data and services centre's local portal.
THEIA data catalogue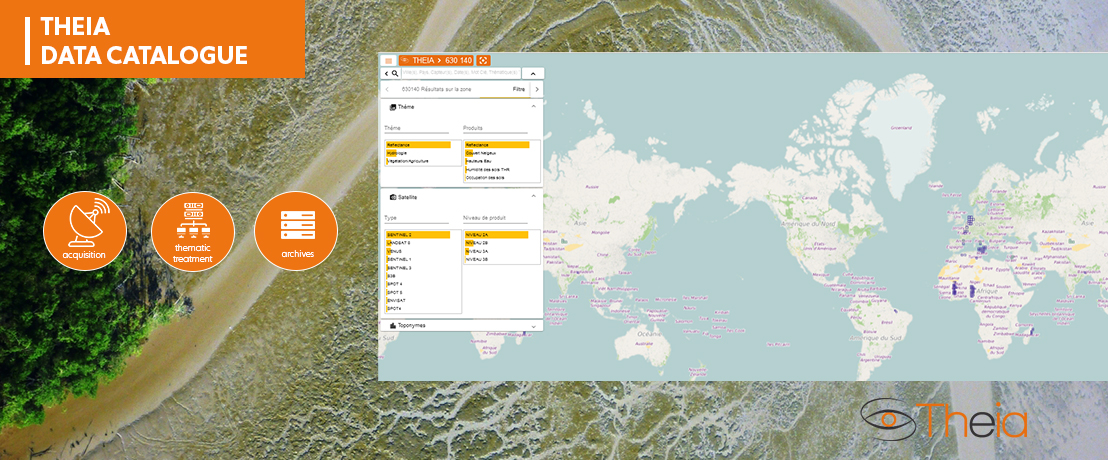 The THEIA hub's data catalogue lets users access and download regularly generated land surfaces products. It offers a range of features enabling searching by date, location, sensor or theme. To download certain data, you may be required to create a Theia account, which is free and open to all.
THEIA | OZCAR data catalogue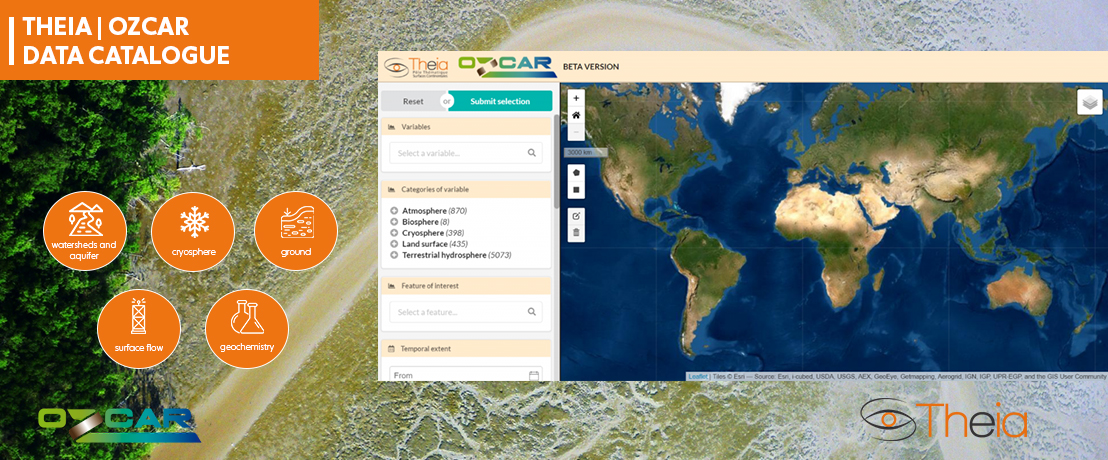 The THEIA | OZCAR information system lets users access in-situ land surfaces data gathered by 21 research observatories and more than 60 instrumented sites in France and abroad.
AERIS data catalogue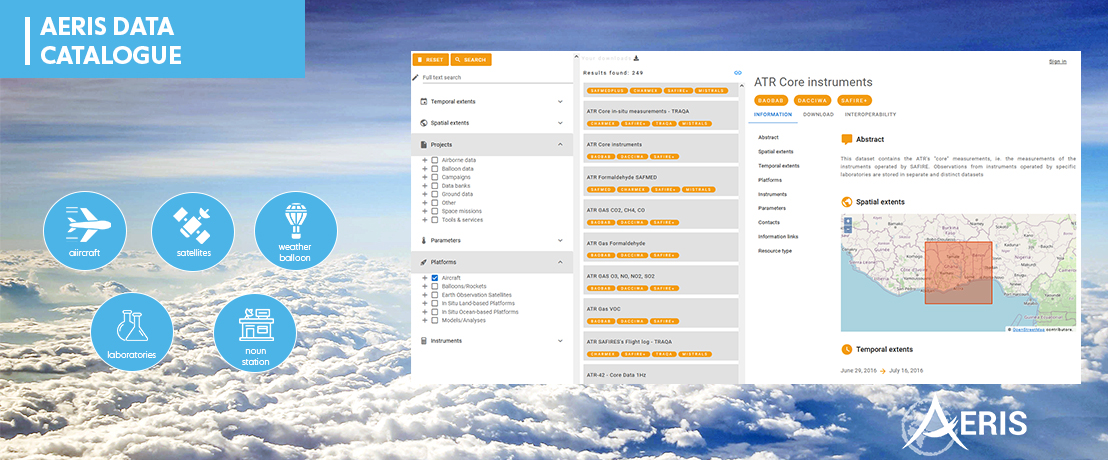 The AERIS atmosphere data hub's catalogue contains all data available from its data and services centres (DSC). It consists of a common meta-database maintained by the DSCs and a user interface supporting full-text or multi-criteria searching, with a basket for downloading products.
Project, thematic and other filters also let you browse a subset of the catalogue, notably by personalizing search criteria.
Metadata are described in the catalogue in a specific format that is nonetheless compatible with ISO 19115 and INSPIRE standards and can be extended to adapt to the special features of certain types of data (i.e. aerial data, simulation chamber data, etc.). Data can be exported to standard formats or to other portals on request.
ForM@Ter data catalogue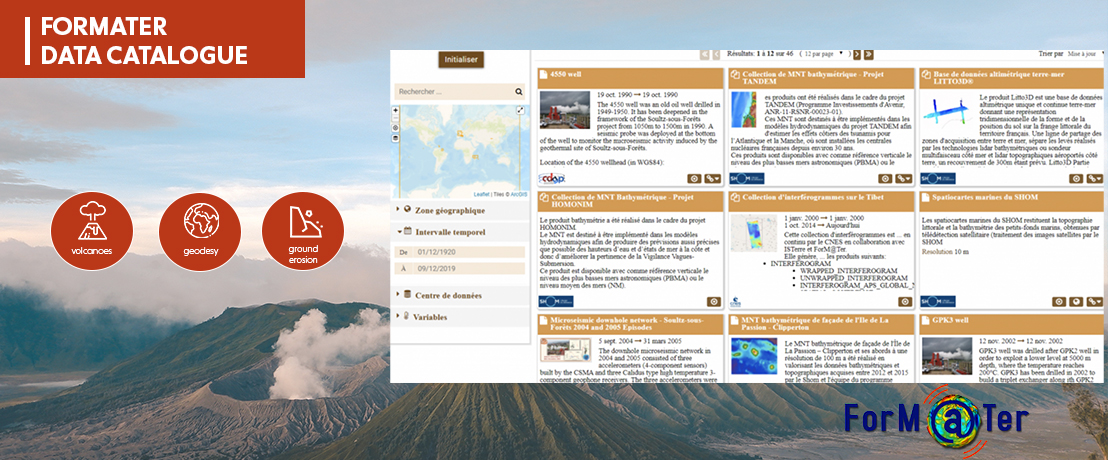 The ForM@Ter hub's catalogue offers a one-stop portal for accessing data and products in the solid Earth domain managed by its data and services centres (DSCs), as well as products from processing services. It supports searching by date, geographic zone, data centre or theme.
DINAMIS data catalogue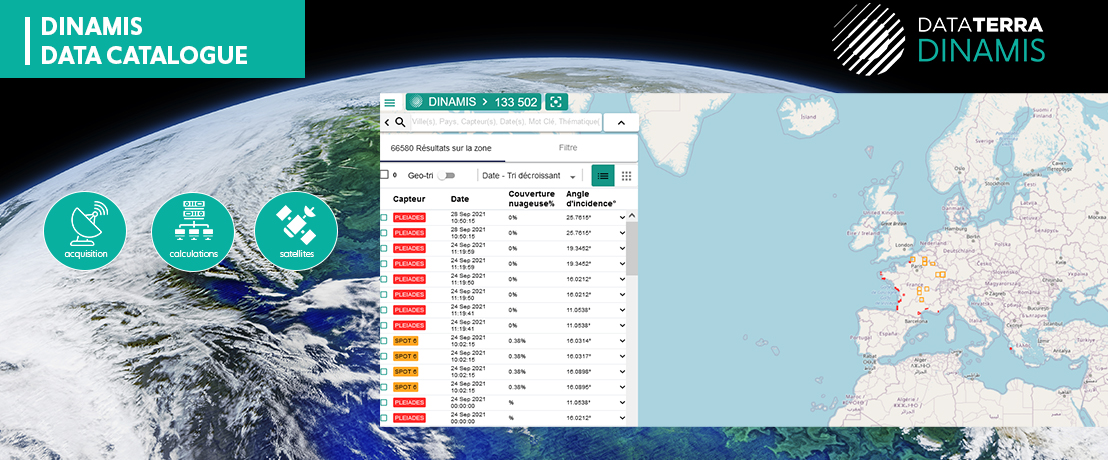 The DINAMIS catalogue supports searching of satellite imagery using simplified criteria or advanced multi-criteria searching.
The catalogue is regularly updated with new acquisitions and contains images hosted on different platforms at CNES (Pleiades, PEPS, SWH, Kalideos), IGN (Spatial.ign) and GEOSUD. It also lets you view Airbus Defence and Space's full commercial Geostore catalogue and identify potential archive imagery of interest, which can be requested by subscribers. Imagery is available in raw or orthorectified formats.
To access the catalogue's advanced features, a Theia account and/or SPOT 6-7 subscription are required.
When requesting fresh imagery, a dedicated application allows subscribers to specify Geostore archives or Pleiades/SPOT 6-7 tasking requests.